Facts About Ireland
Education has always been highly valued in Ireland.

Ireland is in the top-twenty worldwide for its higher education system.

Ireland's worldwide reputation for high quality education is built on the solid foundation of commitment to excellence.

The Irish university system offers degree programmes – at Bachelor, Masters and Doctorate level

There are three main sectors of formal education: primary (eight years), secondary (six years) and tertiary/higher education (universities, institutes of technology, and independent colleges).

Republic of Ireland can be a very exciting place to be a student.

Part time working opportunities available during term time and full time course.

Ireland's Higher Education Institutions have over 5,000 courses on offer across the spectrum of medicine, science, technology, engineering, business, law, languages, literature, history, philosophy, psychology, sociology and other humanities as well as the creative, visual and performing arts.

Ireland is the only English-speaking country in the Eurozone, and that's one of the reasons why so many multinational businesses locate their European base here.

It also makes Ireland a great choice for international students. English is now the global language of business.
Location and Geography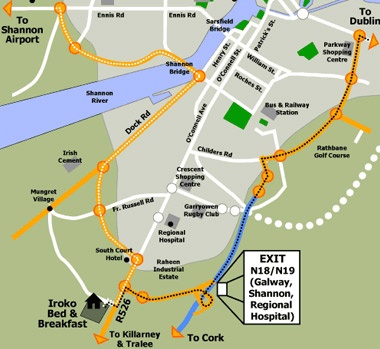 The Republic of Ireland includes 26 counties, and represents five-sixths of the total area (84,421 square kilometers) of Ireland (the other sixth is Northern Ireland, which is part of the United Kingdom and covered in that destination section of the IATC). The capital city is Dublin.
The Republic of Ireland consists of a mostly level to rolling interior plain surrounded by rugged hills and low mountains, with sea cliffs on the west coast. The River Shannon separates the midlands from the west. To the northeast is Northern Ireland (U.K.); otherwise the Republic of Ireland is surrounded by water.
History and Population
Ireland has been populated for around 9,000 years. Irish ancestry includes a mix of many peoples such as the Celts, Normans, Vikings, and Scots. Once part of the U.K., the Republic of Ireland became increasingly sovereign over the course of the 20th century, with the Republic of Ireland officially declared in 1949.
Historically, emigration was caused by politics, religious oppression, and economic issues. Over 80 million Irish people and their descendants currently live in other countries. Since the 1990s, thanks to an agreement in 1998 ending civil strife as well as to economic expansion, this trend has been changing: more people are now moving to Ireland than leaving the country.
The total population of the Republic of Ireland is around 4.5 million. English is the main language, with a minority using Irish as their mother tongue.
Society and Culture
The Lonely Planet travel guide named Ireland as the friendliest country in the world (2008 and 2010), and the 2009 Global Peace Index ranked it the 12th most safe and welcoming country to live in. Ireland is predominantly Christian, and mainly Roman Catholic. English and Irish (Gaelic) are the official languages, although Gaelic is a minority language.
Myths and legends are an integral part of Irish culture. Traditions such as music, Irish dancing, social outings at the Irish pub, and wearing something green on St Patrick's Day are a very important part of the culture. The Irish are well recognised for their love of storytelling, their wit and humor, and for a distinctive musical rhythm or lilt in their voice in conversation. At the same time, they have embraced modern culture, and international students will see both traditional and modern culture side by side in Ireland.
Cost of Living
The ICOS website provides up-to-date information on the cost of living expenses. Accommodation can range from around €90–€140 a week. On-campus student accommodation is highly sought after, and can be more expensive than sharing a house or flat. The cheapest alternative is usually staying with a family. Students should allow around €70–€100 a week for food. Entertainment budgets can vary considerably.
Tuition fees for international students vary depending on the institution, the study programme, and the level of study, with the average around €12,000 per year (€9,000–€18,000 range except for medical-related courses). These average costs refer only to third-level course fees. The fee for a general standard English-language programme tends to be lower, seldom reaching the 10,000-euro mark for a full-year course. Where the annual course fee is less than €6,000 pa, the full fee must be paid in advance.
It may be beneficial for students to apply for an International Student Identity Card (ISIC) as this can assist in reduced costs in several areas such as transport. Train and bus transport are generally readily available in the major towns. In major cities, there should be dedicated bike lanes for those who choose this form of local transport. While a waterproof jacket is a must (it rains twice as much in the west as in the east), a range of outdoor activities is available including hill walking, biking, pony-trekking, and even surfing.
Education System
Ireland has one of the best education systems in the world according to the independent IMD World Competitiveness Yearbook 2009 (Ireland ranks eighth). Many believe the education system is a major reason for the country's rapid economic growth in the last few decades.
Responsibility for education lies within the Department of Education and Science, which administers all aspects of education policy.
There are three main sectors of formal education: primary (eight years), secondary (six years) and tertiary/higher education (universities, institutes of technology, colleges of education, NUI colleges, and independent colleges). In recent years a fourth sector, called further education, has been added to promote the concept of lifelong learning throughout a person's career and life. Education is free at all levels, but only to those applying from EU countries
In terms of higher education, there are seven universities in the Republic of Ireland, 14 institutes of technology, as well as many independent (privately funded) colleges. All government-approved academic awards in these institutions are internationally recognised. There is a wide range of technical and vocational training programmes available in Ireland. English-language programmes attract around 200,000 students a year of all ages and nationalities.
There are 39 Australian universities, and many other recognized higher education institutions, located in capital cities and many regional centers. Australian courses are of very high quality and recognized worldwide by employers and other institutions.
Information Specific to International Students
With a relatively young population (36% are under the age of 40), an internationally acclaimed emphasis on education, and a reputation for being a safe place to live, the Republic of Ireland can be a very exciting place to be a student.
Citizens of the European Economic Area (EEA) generally do not have any special requirements to study in the Republic of Ireland. For some countries outside the EEA, a visa is not required. It is important to check country requirements via the Department of Foreign Affairs website.
If a visa is required, the Irish Naturalization and Immigration Service (INIS) website provides detailed information of how to apply and the essential documents that must accompany an application. Some of these requirements include a letter of acceptance for enrolment in a recognised course, immediate access to a specific amount of funds, proof of private medical insurance, proof of English-language level sufficient to meet entry (e.g., IELTS 5) and ability to complete the course, mainly for students who intend to enroll for third-level institutions.
Registered Institutions
Republic of Ireland List of Registered Institutions