Facts About Finland
Capital City is Helsinki and Currency is Euro

Finland is ranked #1 as the happiest country in the world

Finnish Language is not similar to the Scandinavian languages

Non-EU-nationals can enjoy free tuition fees if the classes taken are taught in Finnish or Swedish, or doctoral studies in any language.

Finnish passport is considered at the third best passport in the world, just shortly behind Germany, Singapore, and Japan.

Finland was the first country in Europe to give all women the right to vote.

International Students can work up to 25 hours per week which is more than the allowed time in different countries of the world.
Location and Geography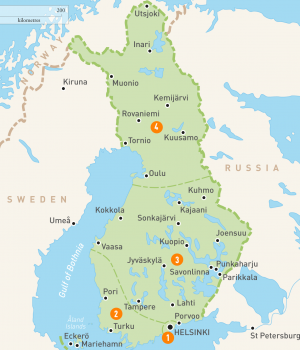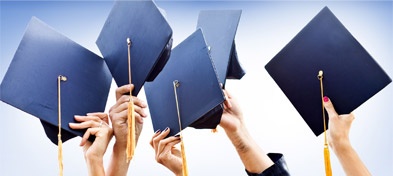 Finland, officially the Republic of Finland, is a Nordic country located in Northern Europe. Finland shares land borders with Sweden to the west, Russia to the east, and Norway to the north and is defined by the Gulf of Bothnia to the west and the Gulf of Finland to the south that are part of the Baltic Sea.
The geography of Finland is characterized by its northern position, its ubiquitous landscapes of intermingled boreal forests and lakes, and its low population density. Finland can be divided into three areas: archipelagoes and coastal lowlands, a slightly higher central lake plateau and uplands to north and northeast. Bordering the Baltic Sea, Gulf of Bothnia, and Gulf of Finland, as well as Sweden, Norway, and Russia, Finland is the northernmost country in the European Union. Most of the population and agricultural resources are concentrated in the south. Northern and eastern Finland are sparsely populated containing vast wilderness areas. Taiga forest is the dominant vegetation type.
History and Population
During the late 19th and 20th century there was significant emigration, particularly from rural areas to Sweden and North America, while most immigrants into Finland itself come from other European countries.
Finland is a parliamentary republic consisting of 19 regions and 310 municipalities. The archipelago of the Åland Islands located southwest of the mainland is the only autonomous region of Finland. The climate in Finland varies due to the country's relatively vast latitudinal differences; southern Finland is classified as having a humid continental climate with the rest of the country being characterized by a boreal climate. Finland can be considered to have a mainly boreal forest biome. More than 180,000 Finnish lakes have been recorded, which is why Finland is internationally called "the land of a thousand lakes".
The majority of the population lives in central and southern Finland with over 1.5 million people living in the Greater Helsinki metropolitan area, which produces a third of the country's GDP. The main language is Finnish, a Finnic language of the Uralic language family, which is unrelated to the Scandinavian languages. Swedish is the second official language of Finland, and is mainly spoken in certain coastal areas of the country and on Åland.
Finland largely remained an agrarian country until the 1950s. After World War II, the country rapidly industrialized and developed an advanced economy, while building an extensive welfare state based on the Nordic model, resulting in widespread prosperity and a high per capita income. Finland joined the United Nations in 1955 and adopted an official policy of neutrality. The Finno-Soviet Treaty of 1948 gave the Soviet Union some leverage in Finnish domestic politics during the Cold War. Finland joined the OECD in 1969, the NATO Partnership for Peace in 1994, the European Union in 1995, the Euro-Atlantic Partnership Council in 1997, and the Eurozone at its inception in 1999.
Finland is a top performer in numerous metrics of national performance, including education, economic competitiveness, civil liberties, quality of life, and human development. In 2015, Finland was ranked first in the World Human Capital and the Press Freedom Index and as the most stable country in the world during 2011–2016 in the Fragile States Index, and second in the Global Gender Gap Report. It also ranked first on the World Happiness Report for 2018, 2019 and 2020.
Finland has a population of approximately 5.5 million, making it the 25th-most populous country in Europe. With an area of 338,455 square kilometers, Finland is the eighth-largest country in Europe, and the most sparsely populated country in the European Union. Helsinki, the capital of Finland, is the largest city in the country.
Society and Culture
The culture of Finland combines indigenous heritage, as represented for example by the country's national languages Finnish (a Uralic language) and Swedish (a Germanic language), the sauna, with common Nordic and European cultural aspects. Because of its history and geographic location, Finland has been influenced by the adjacent areas, various Finnic and Baltic peoples as well as the former dominant powers of Sweden and Russia. Finnish culture is built upon the relatively ascetic environmental realities, traditional livelihoods, and heritage of egalitarianism (e.g. Everyman's right, universal suffrage) and the traditionally widespread ideal of self-sufficiency (e.g. predominantly rural lifestyles and modern summer cottages).
There are cultural differences among various regions of Finland, especially minor differences in dialect. Minorities, some of which have a status recognised by the state, such as the Sami, Swedish-speaking Finns, Romani, Jews, and Tatar, maintain their cultural identities within Finland. Many Finns are emotionally connected to the countryside and nature, as large-scale urbanization is a relatively recent phenomenon.
Cost of Living
In Finland, the prices are always presented with the taxes as one lump sum. This is true all over Finland, in the stores, restaurants, hairdressers', etc. The price always includes all taxes and service.
In a nutshell, in Finland, all income, goods and services are taxed. The high taxation helps to fund the Finnish welfare society that provides free education, high-quality health services and social security system.
Finland is definitely an affordable country to live and study in, and many students get on by their student budgets or with whatever part-time work they find. The amount of money that students spend depends mostly on their habits and their location in Finland. Bigger cities like Helsinki will be a little more costly when compared to other smaller cities or towns in the country.
The average living cost which includes housing and feeding can range from 500 to 900 euros per month for International Students.
Education System
The education system in Finland consists of daycare programs (for babies and toddlers), a one-year "pre-school" (age six), a nine-year compulsory basic comprehensive school (age seven to age sixteen), post-compulsory secondary general academic and vocational education, higher education and adult education.
During their nine years of common basic education, students are not selected, tracked, or streamed. There is also inclusive special education within the classroom and instructional efforts to minimize low achievement. After basic education, students may choose to continue with secondary education in either an academic track or a vocational track, both of which usually take three years and give a qualification to continue to tertiary education. Tertiary education is divided into university and polytechnic (Also known as "university of applied sciences") systems. Universities award licentiate- and doctoral-level degrees. Formerly, only university graduates could obtain higher (postgraduate) degrees, however, since the implementation of the Bologna process, all bachelor's degree holders can now qualify for further academic studies.
Finland has consistently ranked high in the PISA study, which compares national educational systems internationally, although in the recent years Finland has been displaced from the very top. In the 2012 study, Finland ranked sixth in reading, twelfth in mathematics and fifth in science, while back in the 2003 study Finland was first in both science and reading and second in mathematics. Finland's tertiary Education has moreover been ranked first by the World Economic Forum.
The governments of Jyrki Katainen, Alexander Stubb and Juha Sipilä cut education funds in Finland over 2011-2018 by a total of €1.5 billion. The number of university and college employees was cut by more than 7500.
Information Specific to International Students
The total number of International students who are non-Finnish nationals, including post graduate students has doubled since 2006 from 10,066 to approximately 25,000 in 2019.
In 2015 almost half of all international students were studying for a bachelor's degree with just over half studying at a University. Over 30 % of international students were studying a master's degree with just under 70% at a University of applied sciences, and around 18 % of international students were studying a doctoral degree.
One year after graduation just under 40 % of international degree students are employed in Finland and 5.2% are continuing students in Finland.
General Admission Requirements
Minimum Higher Secondary School Certificate (HSSC/Intermediate) with more than 50% marks.

With/Without IELTS.

Up to 100% Scholarships available