Facts About Kyrgyzstan
Top medical Universities in Kyrgyzstan are recognized by MCI, WHO, UNESCO and are enlisted with the World Directory of Medical Schools (WDOMS).

MBBS in Kyrgyzstan is affordable as compared to other countries like China, Europe, USA, UK etc.

The medium of instruction for MBBS/MD in Kyrgyzstan is English.

Students who study MBBS in Kyrgyzstan get Degree of MD Physician that is recognized in all parts of the world.

The ratio of teacher:student is optimal, allowing the students to get complete attention from the faculty members and become a successful doctor.

Australia is a world leader in the provision of education to international students. More than 400,000 students from around 200 countries receive an Australian education each year.

Students are not required to clear any entrance examination for admission in Top Medical Universities of Kyrgyzstan.

Cost of Living, Tuition and accommodation is very low as compared to other countries in the continent for the MBBS/MD Program in Kyrgyzstan.

All enrolled students get various opportunities to participate in International Conferences & Seminars, which allows them to have an international exposure and knowledge.
Location and Geography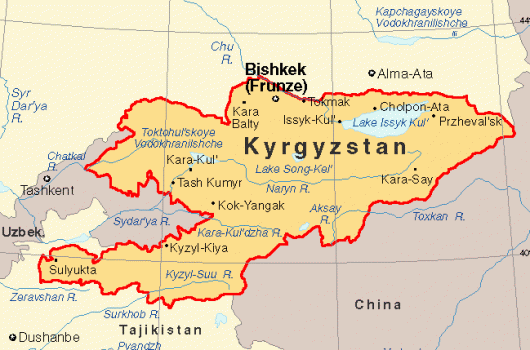 Kyrgyzstan is a landlocked nation in Central Asia, west of the People's Republic of China. Less than a seventh the size of Mongolia, at 199,951 square kilometers,[1] Kyrgyzstan is one of the smaller Central Asian states. The national territory extends about 900 km (560 mi) from east to west and 410 km (250 mi) from north to south.
Kyrgyzstan is bordered on the east and southeast by China, on the north by Kazakhstan, on the west by Uzbekistan and on the south by Tajikistan. The borders with Uzbekistan and Tajikistan in the Fergana Valley are rather difficult. One consequence of the Stalinist division of Central Asia into five republics is that many ethnic Kyrgyz people do not live in Kyrgyzstan.
The terrain of Kyrgyzstan is dominated by the Tian Shan and Pamir mountain systems, which together occupy about 65% of the national territory. The Alay range portion of the Tian Shan system dominates the southwestern crescent of the country, and, to the east, the main Tian Shan range runs along the boundary between southern Kyrgyzstan and China before extending farther east into China's Xinjiang Uygur Autonomous Region. Kyrgyzstan's average elevation is 2,750 m (9,020 ft), ranging from 7,439 m (24,406 ft) at Peak Jengish Chokusu to 394 m (1,293 ft) in the Fergana Valley near Osh. Almost 90% of the country lies more than 1,500 m (4,900 ft) above sea level.
History and Population
Kyrgyzstan, officially the Kyrgyz Republic is a country in Central Asia. Kyrgyzstan is a landlocked country with mountainous terrain. It is bordered by Kazakhstan to the north, Uzbekistan to the west and southwest, Tajikistan to the southwest and China to the east. Its capital and largest city is Bishkek. Kyrgyzstan was occupied by by Russia in 1876 and in the year 1991, the country successfully achieved its independence from the Soviet Union.
Since independence, the sovereign state has officially been a unitary parliamentary republic, although it continues to endure ethnic conflicts, revolts, economic troubles, transitional governments and political conflict. Kyrgyzstan is a member of the Commonwealth of Independent States, the Eurasian Economic Union, the Collective Security Treaty Organization, the Shanghai Cooperation Organization, the Organization of Islamic Cooperation, the Turkic Council, the Türksoy community and the United Nations.
Kyrgyz is closely related to other Turkic languages, although Russian remains widely spoken and is an official language, a legacy of a century of Russification. Ninety percent of the population are Muslims, with the majority being Sunni. In addition to its Turkic origins, Kyrgyz culture bears elements of Persian, Mongolian and Russian influence.
Official estimates set the population at 6,389,500 in 2019. The country is rural: only about one-third of Kyrgyzstan's population live in urban areas.
The Kyrgyz have historically been semi-nomadic herders, living in round tents called yurts and tending sheep, horses and yaks. This nomadic tradition continues to function seasonally (see transhumance) as herding families return to the high mountain pasture (or jailoo) in the summer. The retention of this nomadic heritage and the freedoms that it implies continue to affect the political atmosphere in the country.
Society and Culture
Under Soviet rule and before 1992, it had the flag of the Soviet Union with two big blue stripes and a white thin stripe in the middle.
In addition to celebrating the New Year each 1 January, the Kyrgyz observe the traditional New Year festival Nowruz on the vernal equinox. This spring holiday is celebrated with feasts and festivities such as the horse game Ulak Tartish.
Economy
The economy of Kyrgyzstan is heavily dependent on the agricultural sector. Cotton, tobacco, wool, and meat are the main agricultural products, although only tobacco and cotton are exported in any quantity. According to Healy Consultants, Kyrgyzstan's economy relies heavily on the strength of industrial exports, with plentiful reserves of gold, mercury and uranium. The economy also relies heavily on remittances from foreign workers. Following independence, Kyrgyzstan was progressive in carrying out market reforms, such as an improved regulatory system and land reform. In 1998, Kyrgyzstan was the first Commonwealth of Independent States (CIS) country to be accepted into the World Trade Organization. Much of the government's stock in enterprises has been sold. Kyrgyzstan's economic performance has been hindered by widespread corruption, low foreign investment and general regional instability. Despite political corruption and regional instability, Kyrgyzstan is ranked 70th (as of 2019) on the ease of doing business index.
Cost of Living
The cost of living in Kyrgyzstan is relatively low in comparison to other international expat destinations. This is demonstrated in Mercer's cost of living survey for 2018, where Bishkek was ranked 207th out of 209 cities surveyed, placing it as one of the cheapest expat destinations.
Nevertheless, the cost of living can be highly variable. Due to its landlocked location, lack of natural resources and underdeveloped manufacturing industry, Kyrgyzstan relies on imports for the majority of its goods, mostly from China, Russia or Turkey.
Food costs are generally reasonable in Kyrgyzstan. Contacts are important for finding the best place to live, so students should begin talking to people as soon as they get to Kyrgyzstan for comfortable but reasonably priced living arrangements.
Most Kyrgyzstan universities and colleges provide various levels of on-campus accommodation to international students at different costs to suit different budgets. International students can choose their accommodation when they arrive at the school. On-campus accommodation is usually the cheapest alternative.
Generally speaking, daily expenses in Kyrgyzstan are reasonably priced, as food is cheap, utilities are subsidized and real estate is much less expensive than other expat destinations.
Education System
The school system in Kyrgyzstan includes primary (grades 1 to 4, some schools have optional 0 grade), secondary (grades 5 to 9) and high (grades 10 to 11) divisions within one school. Children are usually accepted to primary schools at the age of 6 or 7. It is required that every child finishes 9 grades of school and receives a certificate of completion. Grades 10–11 are optional, but it is necessary to complete them to graduate and receive a state-accredited school diploma. To graduate, a student must complete the 11-year school course and pass 4 mandatory state exams in writing, math's, history and a foreign language.
There are 77 public schools in Bishkek (capital city) and more than 200 in the rest of the country. There are 55 higher educational institutions and universities in Kyrgyzstan, out of which 37 are state institutions.
In September 2016, the University of Central Asia was launched in Naryn, Kyrgyzstan.
Today, Kyrgyzstan is counted among the top choices for MBBS in Abroad by the international students at low cost. Thousands of students from many countries like India, Nepal, Pakistan, Bangladesh, China etc. apply in the medical universities of Kyrgyzstan to pursue their medical degree in abroad. The quality of medical education provided in the universities of Kyrgyzstan is comparable to the European standards.
Information Specific to International Students
The total number of foreign students in Kyrgyzstan increased steadily over recent years and reached more than 20,000 in 2019. That was roughly double as much as ten years ago.
Admission Requirements for MBBS
Students having minimum 60% marks in intermediate (FSc Pre-Medical) can apply.

Top medical Universities in Kyrgyzstan are recognized by PMDC, WHO.

Separate hostels for female.

No Entry Test.

No IELTS or TOEFL required.