Facts About China
Capital: Beijing, Currency: Yuan (or Renminbi), Official language: Mandarin and population: 1,415,045,928.

China is One of "the Four Ancient Civilizations".

The Government encourages all international researchers and trainers by providing funds and credits.

China has always been a hub of business for investors coming from Europe and Asia.

Shanghai city is listed is one of the famous cities globally for businesses.

Fascinating and unique culture.

The Chinese economy is the fastest growing in the world – set to become the largest.

Learning Chinese/Mandarin and understanding China could be very important for some professions.

Chinese government is investing heavily in higher education

Academic degree programs are available in both English and Native language.

International Students have the choice of studying either in English or in Chinese.
Location and Geography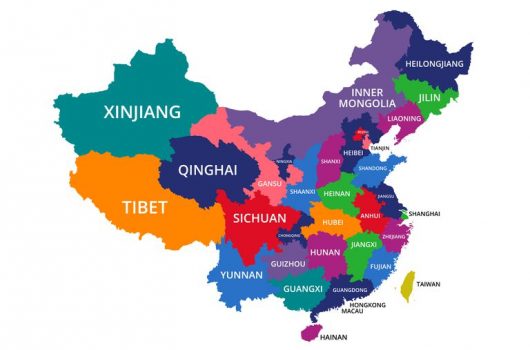 China is a country located in East Asia bordering fourteen other countries, including Mongolia to the north; Kazakhstan, Kyrgyzstan, Tajikistan, Afghanistan, and Pakistan to the west; India, Nepal, and Bhutan to the southwest; Myanmar, Laos, and Vietnam to the south; North Korea to the southeast; and Russia to the northeast and northwest. South China and East China straddle along the Pacific Ocean, with the South China Sea to the south and the East China Sea and Yellow Sea to the east. Hong Kong and Macau further complicate the implications of China's borders for that even though both territories have their own national symbols, jurisdictions, and even their own separate border control customs between them and Mainland China, they are also officially considered to be special administrative regions within China under the One China, Two Systems policy. The People's Republic of China is either the third or fourth largest country in the world, being either slightly larger or slightly smaller than the United States depending on how the area of the United States is measured.
Traditionally, the Chinese population centered on the Chinese central plain and oriented itself toward its own enormous inland market, developing as an imperial power whose center lay in the middle and lower reaches of the Yellow River on the northern plains.[citation needed] More recently, the 18,000 km (11,000 mi) coastline has been used extensively for export-oriented trade, causing the coastal provinces to become the leading economic center.
History and Population
Located in Eastern Asia, China borders North Korea, Russia, Mongolia, Kazakhstan, Kyrgyzstan, Tajikistan, Afghanistan, Pakistan, India, Nepal, Bhutan, Myanmar, Laos, and Vietnam. Its coastline runs along the East China Sea, the Yellow Sea, and the South China Sea between North Korea and Vietnam. The greater part of the country is mountainous. In the southwest is Tibet; the Gobi Desert lies to the north. The capital city is Beijing.
China has a recorded history of 3,500 years and is noted for being the oldest continuous major world civilization. Before the 20th century, China was ruled by a succession of dynasties. One of these, the Han dynasty, saw the ascent of the Confucian ideology, and during the Han dynasty intellectual, literary, and artistic endeavors flourished. Two major Chinese inventions, paper and porcelain, came from this period.
The Qing (Ch'ing) dynasty, established in 1644 when the nomadic Manchus invaded China, would be China's last dynasty – it ended in 1911 and China became a republic. Much of the early 20th century saw civil war in China, with communists battling non-communist forces; invasions and occupations by other powers also occurred. Various communist models ensued, with various degrees of freedom and restraint, and wealth and poverty, for the population as a whole. Toward the end of the century, China began opening itself up to the rest of the world (it was isolationist for much of the century) and enacted reforms which led to massive economic development. China is now considered a major world power with a technology-intensive, industrialized economy.
Society and Culture
Officially atheist, China is a country with diverse religious beliefs and freedom to practice them. The main religion is a combination of Buddhism, Confucianism, and Taoism (93%), while "other" (7%) includes Christians, Protestants, Catholics, Mormons, Muslims, and Jews. Han Chinese compose 92% of the ethnic make-up of the country, with Huang, Uygur, Hui, Yi, Tibetan, Miao, Manchu, Mongol, Buyi, Korean, and various other nationalities composing the rest.
In terms of culture, it's almost impossible to provide a brief description. Various parts of Chinese culture have been adopted across the world, especially in Japan, Korea, and Vietnam, including literature (including fables and poetry), cuisine (e.g., Sichuan), music (e.g., opera), crafts (e.g., wood carving and furniture-making) and visual arts (e.g., silk painting). Confucianism as well as an emphasis on collective over individual good have resulted in a society that values duty, sincerity, loyalty, honor, and respect for age and seniority.
Cost of Living
Food costs are generally reasonable in China; housing is the major expense. Contacts are important for finding the best place to live, so students should begin talking to people as soon as they get to China for comfortable but reasonably priced living arrangements. In general, western China tends to be cheaper than the eastern port cities of Beijing, Qingdao, Shanghai, and Guangzhou. In Beijing, both furnished and unfurnished properties are available. Furnished houses are very easy to find in the rental market of Beijing.
Most Chinese universities and colleges provide various levels of on-campus accommodation to international students at different costs to suit different budgets. International students can choose their accommodation when they arrive at the school. On-campus accommodation is usually the cheapest alternative. For travel between cities, buses and boats are almost always cheaper than trains and planes.
Education System
The Chinese government has placed priority on developing education. It is revitalizing the country through science and education, intensifying the reform of educational system, and implementing nine-year compulsory education. Governments at all levels are increasing their investment in education. China's education system includes pre-school, primary school, secondary school, high school, university and college, as well as graduate school education.
Secondary schooling is for children aged 12–17 and is managed by local governments and various business authorities. State-run secondary schools include junior middle schools and senior middle schools, both with three grades or years. The first three years of secondary school are compulsory and tuition is free. Senior middle school is not compulsory and students must pay minimal tuition fees. Private secondary schools often offer specialized education and have a more vocational bent, but their qualifications are considered to be on the same level as those of state-run middle schools.
In terms of higher education, universities, colleges, institutes, and vocational colleges offer degree (e.g., bachelor's, master's, and doctoral) programs as well as non-degree programs – all are open to foreign students. There are over 2,000 universities and colleges, and students are required to pay tuition.
Chinese universities are divided into several categories: some directly under the Ministry of Education, others run by provincial, autonomous regional, and municipal governments, still others run by local center cities, as well as by communities. Chinese universities and independent colleges are equal institutions of higher learning.
To enter a university or college, students have to take the national entrance examination, which takes place every June. Selection is based on each student's marks in this exam, and due to the number of people sitting the exam, getting into university is highly competitive.
Information Specific to International Students
The total number of foreign students in China increased steadily over recent years and reached more than 490,000 in 2018. That was roughly double as much as ten years ago and made China one of the leading host destinations for international students. The top five countries with the largest numbers of international students in China are Pakistan, India, African Countries, Thailand, South Korea and United States.
Admission Requirements for MBBS
Students having minimum 60% marks in intermediate (FSc Pre-Medical) can apply.

The course duration of MBBS is 6 years in majority Chinese universities.

Top medical Universities in China are recognized by PMDC, WHO, UNESCO.

Separate hostels for female.

No Entry Test.

No IELTS or TOEFL required.