Facts About Lithuania
Lithuanian is one of the oldest languages in the world today. This language is one of the oldest living Indo-European language of Europe.

By the end of the fourteenth century, Lithuania was the largest country in Europe.

The currency of Lithuania is Euro and 1 Euro is equal to 100 centas.

Lithuania was the last country in Europe to be converted to Christianity. Before Christianity, the country's religion was 'Romuva'.

The capital of Lithuania is Vilnius.

There is an oak in Lithuania that has survived The Crusades. The Stelmuze oak is the oldest tree in Europe.

Lithuania was the first Soviet republic to declare independence from the USSR.

Lithuanians celebrate two independence days: there is one on February 16, and another, the Day of the Restoration of Independence, on March 11.
Geography and Location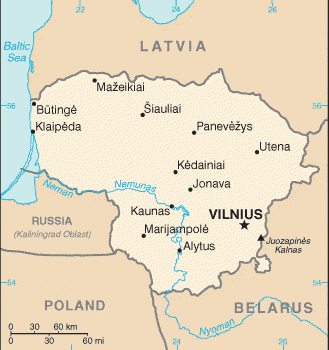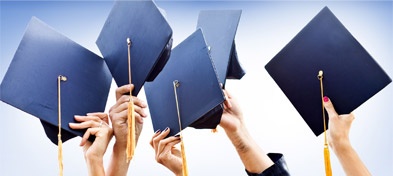 Lithuania is situated on the eastern shore of the Baltic Sea. Lithuania's boundaries have changed several times since 1918, but they have been stable since 1945. Currently, Lithuania covers an area of about 65,300 km2 (25,200 sq mi).
Lithuania is situated on the eastern shore of the Baltic Sea. Lithuania's boundaries have changed several times since 1918, but they have been stable since 1945. Currently, Lithuania covers an area of about 65,300 km2 (25,200 sq mi). About the size of West Virginia, it is larger than Belgium, Denmark, Latvia, the Netherlands, or Switzerland. Lithuania is situated on the eastern shore of the Baltic Sea and borders Latvia on the north, Belarus on the east and south, and Poland and the Kaliningrad region of Russia on the southwest. It is a country of gently rolling hills, many forests, rivers and streams, and lakes. Its principal natural resource is agricultural land.
Lithuania's northern neighbor is Latvia. The two countries share a border that extends 453 kilometers. Lithuania's eastern border with Belarus is longer, stretching 502 kilometers. The border with Poland on the south is relatively short, only 91 kilometers, but it is very busy because of international traffic. Lithuania also has a 227-kilometer border with Russia. Russian territory adjacent to Lithuania is Kaliningrad Oblast, which is the northern part of the former German East Prussia, including the city of Kaliningrad. Finally, Lithuania has 108 kilometers of Baltic seashore with an ice-free harbor at Klaipėda. The Baltic coast offers sandy beaches and pine forests and attracts thousands of vacationers.
History and Population
Lithuania, officially the Republic of Lithuania, is a country in the Baltic region of Europe. Lithuania is one of the Baltic states. Situated on the eastern shore of the Baltic Sea, to the southeast of Sweden and Denmark, Lithuania is bordered by Latvia to the north, Belarus to the east and south, Poland to the south, and Kaliningrad Oblast (a Russian exclave) to the southwest. Lithuania has an estimated population of 2.8 million people as of 2019. The capital and largest city is Vilnius and other major cities are Kaunas and Klaipėda. Lithuanians are Balts. The official language, Lithuanian, is one of only two living languages in the Baltic branch of the Indo-European language family, the other being Latvian.
For centuries, the southeastern shores of the Baltic Sea were inhabited by various Baltic tribes. In the 1230s, the Lithuanian lands were united by Mindaugas and the Kingdom of Lithuania was created on 6 July 1253. During the 14th century, the Grand Duchy of Lithuania was the largest country in Europe; present-day Lithuania, Belarus, Ukraine, and parts of Poland and Russia were the territories of the Grand Duchy. With the Lublin Union of 1569, Lithuania and Poland formed a voluntary two-state personal union, the Polish–Lithuanian Commonwealth. The Commonwealth lasted more than two centuries, until neighbouring countries systematically dismantled it from 1772 to 1795, with the Russian Empire annexing most of Lithuania's territory.
As World War I neared its end, Lithuania's Act of Independence was signed on 16 February 1918, declaring the founding of the modern Republic of Lithuania. During the Second World War, Lithuania was first occupied by the Soviet Union and then by Nazi Germany. As World War II neared its end and the Germans retreated, the Soviet Union reoccupied Lithuania. On 11 March 1990, a year before the formal dissolution of the Soviet Union, Lithuania became the first Baltic state to proclaim its independence, resulting in the restoration of the independent State of Lithuania.
Lithuania is a developed country with an advanced, high-income economy, a very high Human Development Index,[19] a very high standard of living and performs favorably in measurements of civil liberties, press freedom, internet freedom, democratic governance and peacefulness. Lithuania is a member of the European Union, the Council of Europe, eurozone, Schengen Agreement, NATO and OECD. It is also a member of the Nordic Investment Bank, part of Nordic-Baltic cooperation of Northern European countries, and is classified as a Northern European country by the United Nations.
Society and Culture
Lithuania is a cohesive society of 3 million people with no serious internal conflicts. The local Baltic culture has been influenced by both the West and the East.
Lithuanians are quite introverted and speak little to people they don't know.
The culture of Lithuania combines an indigenous heritage, represented by the unique Lithuanian language, with Nordic cultural aspects and Christian traditions resulting from historical ties with Poland. Although linguistic resemblances represent strong cultural ties with Latvia in various historical moments Lithuania was influenced by Nordic, Germanic and Slavic cultures. Various cultural changes occurred throughout Lithuania's transformation from a country occupied by the Soviet Union to an independent Baltic state.
Cost of Living
In general, Lithuania is a good place to live and this has been stated repeatedly by both the natives and tourists.
All of the basic services you need in a strange city are available to anyone and are of reasonably good quality, on par with what you will find anywhere in Europe.
And though it can be expensive, you can live quite cheaply in here if you really need or want to.
Prices and wages alike have been going up at about 6% annually since Lithuania has joined EU, so hurry up, as it's only going to get more expensive!
Education System
The people of Lithuania are highly educated. Nearly the entire population between the ages of 15 to 39 has completed basic schooling. A major overhaul of Lithuanian education practices followed the country's restoration of independence in 1991. The system of primary-secondary-higher education was developed between the two world wars with the Soviets further expanding this to adult education. The Soviets highly politicized philosophy of education was evaluated and replaced. Independent Lithuania no longer adheres to the "Soviet school" philosophy. It now focuses on an ideology based on Lithuanian history and culture. However, the system still utilizes some Soviet organizational methods (U.S. Department of State 1998).
Education between the ages of 7 and 16 is compulsory and free of charge at all levels, as a result of the 1992 Constitution. The three levels of Lithuanian education include: comprehensive (from 7 to 16 years of age), vocational and schools of further education (from 16 to 18), and higher education. Furthering this delineation, there are three types of comprehensive schools: primary (grades 1 to 4), principal (grades 5 to 9), and secondary (grades 10 to 12). There are over 2,000 schools across these levels. Preschool is also available should parents wish to enroll their children.
Schools are located in all cities, towns, and villages. The more remote schools generally begin with first grade and end with fifth or ninth grade. Students are likely to attend a public institution for primary and secondary school, where they are commonly enrolled in art and music courses in addition to their academic schedule. Following secondary education (grade 12), the majority of students go on to vocational schools; the next largest percentage of students attend college-like institutions. The remaining students continue at polytechnical institutions.
Following Lithuania's independence from the Soviet Union, more than 67 percent of Lithuanian students now attend religious classes in general schools. In addition to the religious courses, students also study history, mathematics, science, ethics, Lithuanian, and Lithuanian literature. Foreign language study includes English, German, Russian, French, and Latin for accelerated classes. Foreign language study begins in the fifth grade, with English as the primary language of study.
Teachers now offer a wider variety of subjects and de-emphasize the teaching of Russian history and the Russian language. Teachers are beginning to attend summer workshops, where they can learn new teaching practices (Kudirka 1991).
The academic year runs for 10 months from September through June. There is a summer break from July 1 to September 1. Classes are primarily taught in Lithuanian, although in closed communities of ethnic minorities, the state does provide support for education in the native language. Parents are permitted to choose the school of general education according to its language of instruction.
Ethnic minorities that do not live in an established closed community are provided with optional classes, as well as Sunday school should they like to improve upon their native language skill. Lithuanian language and literature are taught in all non-Lithuanian educational institutions.
Information Specific to International Students
The number of third country students in Lithuania arriving for a full-study program is constantly increasing. In 2013 there were approx. 3000 students and in 2017 the number reached 4000. The share of third-country students is approx. 4.2 percent while the total body of international students (including students from EU countries) makes up approx. 6 percent. Main nationalities of third country students in 2017 were: Belarussian (970 students), Indian (922 students), Ukrainian (514 students), Israel (226 students), Bangladeshi (203 students). During the last five years the share of students from the Commonwealth of Independent States (CIS) was constantly decreasing while the share of students from Asian countries almost doubled. Main fields of studies: Business and administration (23 percent), social sciences (17 percent), engineering (17 percent), and medicine (14 percent). Even though Lithuania does not have a national strategy for attraction or retention of third-country students Ministry of Education and Science approves annual priorities of promotion internationalization in higher education. For 2017-2018 one of the objectives was to attract gifted international students and teachers capable of bringing about progressive changes in the study process.