Facts About New Zealand
Although it is around the size of Japan, New Zealand's population is just over four million, making it one of the world's least populated countries.

In 1893, New Zealand became the first country to give women the right to vote.

Sir Edmund Hillary, the first person to climb Mount Everest in 1953, was a New Zealander.

Capital City is Wellington and currency is New Zealand Dollar

According to the US News, New Zealand was marked as the 14th Best Destination for Education.

According to Economist Intelligence Unit's second edition of its Worldwide Educating for the Future Index 2018, New Zealand was ranked among the top 3 countries for the Future Index topping the top English-speaking countries.

In New Zealand students completing Level 6 or above qualification can apply for PSWV – Post Study Work Visa which is of 1 Year.

During PSWV, if a student manages to get job in the field they studied, then they can get an additional 02-03 years Extension in PSWV, leading to PR under skilled and different categories.

Excellent Job opportunities are available in New Zealand in service sector areas especially in Computing & IT, Engineering Streams, Hospitality sector and many more.
Location and Geography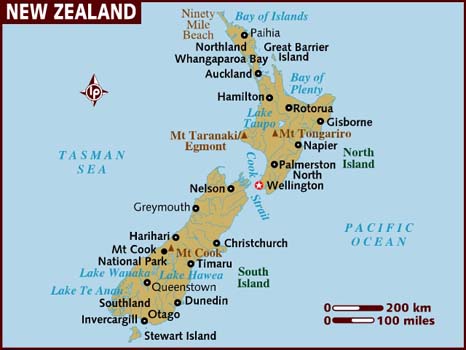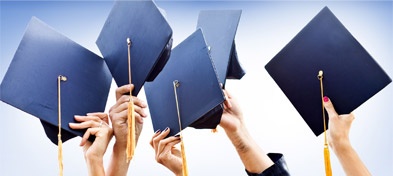 New Zealand is an island country located in the south-western Pacific Ocean, near the center of the water hemisphere. It consists of a large number of islands, estimated around 600, mainly remnants of a larger land mass now beneath the sea. The two main islands by size are the North Island and the South Island, separated by the Cook Strait. The third-largest is Stewart Island, located 30 kilometers (19 miles) off the tip of the South Island across Foveaux Strait. Other islands are significantly smaller in area. The three largest islands stretch 1,500 kilometers (930 miles). New Zealand is the sixth-largest island country in the world, with a land size of 267,710 km2 (103,360 sq mi).
New Zealand's terrain ranges from the fiord-like sounds of the southwest to the sandy beaches of the far north. The South Island is dominated by the Southern Alps while a volcanic plateau covers much of the central North Island. Temperatures rarely fall below 0 °C or rise above 30 °C and conditions vary from wet and cold on the South Island's west coast to dry and continental a short distance away across the mountains and near subtropical in the northern reaches of the North Island.
About two-thirds of the land is economically useful, the remainder being mountainous. The vast majority of New Zealand's population lives on the North and South Islands. The largest urban area is Auckland, in the north of the North Island.
The country is situated about 2,000 kilometers (1,200 miles) south-east of Australia across the Tasman Sea, its closest neighbors to the north being New Caledonia, Tonga and Fiji. It is the southernmost nation in Oceania. The relative proximity of New Zealand north of Antarctica has made the South Island a gateway for scientific expeditions to the continent.
History and Population
Owing to their remoteness, the islands of New Zealand were the last large habitable lands to be settled by humans. Between about 1280 and 1350, Polynesians began to settle in the islands, and then developed a distinctive Māori culture. In 1642, Dutch explorer Abel Tasman became the first European to sight New Zealand. In 1840, representatives of the United Kingdom and Māori chiefs signed the Treaty of Waitangi, which declared British sovereignty over the islands. In 1841, New Zealand became a colony within the British Empire and in 1907 it became a dominion; it gained full statutory independence in 1947 and the British monarch remained the head of state. Today, the majority of New Zealand's population of 5 million is of European descent; the indigenous Māori are the largest minority, followed by Asians and Pacific Islanders. Reflecting this, New Zealand's culture is mainly derived from Māori and early British settlers, with recent broadening arising from increased immigration. The official languages are English, Māori, and New Zealand Sign Language, with English being very dominant.
A developed country, New Zealand ranks highly in international comparisons of national performance, such as quality of life, education, protection of civil liberties, government transparency, and economic freedom. New Zealand underwent major economic changes during the 1980s, which transformed it from a protectionist to a liberalized free-trade economy. The service sector dominates the national economy, followed by the industrial sector, and agriculture; international tourism is a significant source of revenue. Nationally, legislative authority is vested in an elected, unicameral Parliament, while executive political power is exercised by the Cabinet, led by the prime minister, currently Jacinda Ardern. Queen Elizabeth II is the country's monarch and is represented by a governor-general, currently Dame Patsy Reddy. In addition, New Zealand is organized into 11 regional councils and 67 territorial authorities for local government purposes.
New Zealand is a member of the United Nations, Commonwealth of Nations, ANZUS, Organization for Economic Co-operation and Development, ASEAN Plus Six, Asia-Pacific Economic Cooperation, the Pacific Community and the Pacific Islands Forum.
The demographics of New Zealand encompass the gender, ethnic, religious, geographic, and economic backgrounds of the 5 million people living in New Zealand. New Zealanders, informally known as "Kiwis", predominantly live in urban areas on the North Island. The five largest cities are Auckland (with approximately one-third of the country's population), Christchurch (in the South Island, the largest island of the New Zealand archipelago), Wellington, Hamilton, and Tauranga.
Auckland is the most ethnically diverse region in New Zealand with 43.0 percent identifying as Europeans, 28.5 percent as Asian, 11 percent as Māori, 15.5 percent as Pacific Islanders, and 2 percent as Middle Eastern, Latin American or African (MELAA). Compared to the diversity of the population as a whole, the population aged under 18 years is considerably more ethnically diverse.
English, Māori and New Zealand Sign Language are the official languages, with English predominant.
Farming is a major occupation in New Zealand, although more people are employed as sales assistants.
Society and Culture
The culture of New Zealand is essentially a Western culture influenced by the unique environment and geographic isolation of the islands, and the cultural input of the indigenous Māori people and the various waves of multi-ethnic migration which followed the British colonization of New Zealand.
Polynesian explorers reached the islands between 1250 and 1300. Over the ensuing centuries of Polynesian expansion and settlement, Māori culture developed from its Polynesian roots. Māori established separate tribes, built fortified villages, hunted and fished, traded commodities, developed agriculture, arts and weaponry, and kept a detailed oral history. Regular European contact began from 1800, and British immigration proceeded rapidly, especially from 1855. Colonists had a dramatic effect on the Māori, bringing Christianity, advanced technology, the English language, numeracy and literacy. In 1840 Māori chiefs signed the Treaty of Waitangi, intended to enable the tribes to live peacefully with the colonists. However, after several incidents, the New Zealand Wars broke out from 1845, with Māori suffering a loss of land, partly through confiscation, but mainly through widespread and extensive land sales. Māori retained their identity, mostly choosing to live separately from settlers and continuing to speak and write te reo Māori. With mass migration from Britain, a high Māori death rate and low life expectancy for Māori women, the indigenous population figure dropped between 1850 and 1930, becoming a minority.
European New Zealanders, despite their location far from Europe, retained strong cultural ties to "Mother England". These ties were weakened by the demise of the British Empire and loss of special access to British meat and dairy markets. Pākehā began to forge a separate identity influenced by their pioneering history, a rural lifestyle and New Zealand's unique environment. Pākehā culture became prevalent after the wars, but after sustained political efforts, biculturalism and the Treaty of Waitangi became part of the school curriculum in the late 20th century, to promote understanding between Māori and Pākehā.
More recently, New Zealand culture has been broadened by globalization and immigration from the Pacific Islands, East Asia and South Asia. Non-Māori Polynesian cultures are apparent, with Pasifika, the world's largest Polynesian festival, now an annual event in Auckland.
The development of a New Zealand identity and national character, separate from the British colonial identity, is most often linked with the period surrounding World War I, which gave rise to the concept of the Anzac spirit. Many citizens prefer to minimize ethnic divisions, simply calling themselves New Zealanders or, informally, "Kiwis". New Zealand marks two national days of remembrance, Waitangi Day and Anzac Day, and also celebrates holidays during or close to the anniversaries of the founding dates of each province. New Zealand has two national anthems of equal status, "God Save the Queen" and "God Defend New Zealand" – the latter of which is often sung with alternating Māori and English verses.
Cost of Living
New Zealand is consistently ranked as one of the best countries to live in. However, its natural beauty comes at a high price. The average cost of living in New Zealand is not so attractive. In fact, a family a four spends around 6,000 NZD to 8,000 NZD (3,600 to 4,800 USD) per month. New Zealand is a remote island country, and most goods have to be imported. High import taxes, and the fact that many sectors lack competitors, drive up prices.
Another reason for the country's high cost of living is tourists. According to the World Economic Forum, New Zealand ranks 104th in the world for tourism affordability. Prices go steadily up because tourists are willing to pay big money for their New Zealand experience.
Education System
The education system in New Zealand is a three-tier model which includes primary and intermediate schools, followed by secondary schools (high schools) and tertiary education at universities and polytechnics.
Education in New Zealand is a student-centered pathway providing continuous learning progression and choice so that:
Student's progress every year.

Their learning at one level sets the foundation for the next steps along a chosen pathway.
New Zealand's education system has 3 levels:
Early Childhood Education — from birth to school entry age.

Primary and Secondary Education — from 5 to 19 years of age.

Further Education— Higher and Vocational Education.
Our education system reflects our unique and diverse society. We welcome different abilities, religious beliefs, ethnic groups, income levels and ideas about teaching and learning. We have processes in place to give our students consistent, high-quality education at all levels.
Information Specific to International Students
Official statistics from the Ministry of Education show that international student numbers made up 18% of university students throughout New Zealand in 2018. The New Zealand International Students' Association (NZISA) welcomes the increase of international students studying at New Zealand Universities. New Zealand Universities provide excellent education and a good learning environment.
The total number of international students enrolled in New Zealand last year was 117,248 a 6% decrease compared to the previous year. Despite the factor that a drop in overall enrolments was seen significantly, still the number of international students studying in our universities went up to 31,529 – up by 7% compared to 2017.
Over the past three years, the number of foreign nationals studying full time at domestic universities has increased.
General Admission Requirements
Minimum Higher Secondary School Certificate (HSSC/Intermediate) required with more than 80% marks

IELTS 6.0 – 6.5 Band required with no module less than 5.5 – 6.0 Band.

Up to NZD$10,000 scholarship available for all International Students willing to study at Undergraduate and Postgraduate level.
New Zealand List of Registered Institutions