Facts About Kazakhstan
Kazakhstan is the 9th largest country by area in the world, but it has one of the lowest population densities at 6 people per square mile.

Top medical Universities in Kazakhstan are recognized by MCI, WHO, UNESCO and are enlisted with the World Directory of Medical Schools (WDOMS).

MBBS in Kazakhstan is affordable as compared to other countries like China, Europe, USA, UK etc.

The medium of instruction for MBBS/MD in Kyrgyzstan is English.

Cost of Living, Tuition and accommodation is very low as compared to other countries in the continent for the MBBS/MD Program in Kazakhstan.

Ancient Kazakhs were the first people in the world to domesticate and ride horses.

Kazakhstan is the world's largest landlocked country but it still has a navy, which is based on the similarly landlocked Caspian Sea.

There are 27,000 ancient monuments throughout Kazakhstan, including the Golden Man, a Scythian warrior clad in gold armor, which is also Kazakhstan's most important archaeological find. The Golden Man may very well have been a woman.

Out of the 110 elements from Mendeleev's table of chemical elements, 99 have been detected in Kazakhstan.
Location and Geography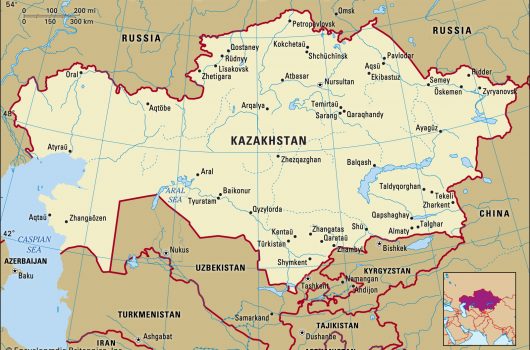 Kazakhstan is located in Central Asia and Eastern Europe at 48°N 68°E. With an area of about 2,724,900 square kilometers, Kazakhstan is more than twice the combined size of the other four Central Asian states and 60% larger than Alaska. The country borders Turkmenistan, Uzbekistan, and Kyrgyzstan to the south; Russia to the north; Russia and the Caspian Sea to the west; and China's Xinjiang Uygur Autonomous Region to the east.
History and Population
Kazakhstan, officially the Republic of Kazakhstan, is a transcontinental country mainly located in Central Asia with a smaller portion west of the Ural in Eastern Europe. It is the world's largest landlocked country, and the ninth-largest country in the world, with an area of 2,724,900 square kilometers (1,052,100 sq mi). Kazakhstan is the most dominant nation of Central Asia economically, generating 60% of the region's GDP, primarily through its oil and gas industry. It also has vast mineral resources.
Kazakhstan is officially a democratic, secular, unitary, constitutional republic with a diverse cultural heritage. Kazakhstan shares borders with Russia, China, Kyrgyzstan, Uzbekistan, and Turkmenistan, and also adjoins a large part of the Caspian Sea. It does not border Mongolia, although they are only 37 kilometers apart. The terrain of Kazakhstan includes flatlands, steppe, taiga, rock canyons, hills, deltas, snow-capped mountains, and deserts. Kazakhstan has an estimated 18.3 million people as of 2018. Its population density is among the lowest, at less than 6 people per square kilometer (15 people per sq mi). Since 1997, the capital is Nur-Sultan, formerly known as Astana. It was moved from Almaty, the country's largest city.
The territory of Kazakhstan has historically been inhabited by nomadic groups and empires. In antiquity, the nomadic Scythians inhabited the land and the Persian Achaemenid Empire expanded towards the southern territory of the modern country. Turkic nomads, who trace their ancestry to many Turkic states such as the First and Second Turkic Khaganates, have inhabited the country throughout its history.
Kazakhstan was the last of the Soviet republics to declare independence during the dissolution of the Soviet Union in 1991. Nursultan Nazarbayev, the first president of Kazakhstan, was characterized as an authoritarian, and his government was accused of numerous human rights violations, including suppression of dissent and censorship of the media. Nazarbayev resigned in March 2019 but was made the Kazakh Security Council's chairman-for-life.
Senate chairman Kassym-Jomart Tokayev succeeded Nazarbayev as president. In the 21st century, Kazakhstan has worked to develop its economy, especially its dominant hydrocarbon industry. Human Rights Watch says that "Kazakhstan heavily restricts freedom of assembly, speech, and religion." Other human rights organizations regularly describe Kazakhstan's human rights situation as poor.
The Kazakh language is the state language, and Russian has equal official status for all levels of administrative and institutional purposes. Kazakhstan is a member of the United Nations (UN), WTO, CIS, the Shanghai Cooperation Organization (SCO), the Eurasian Economic Union, CSTO, OSCE, OIC, CCTS, and TURKSOY.
Society and Culture
Kazakhstan has a well-articulated culture based on the nomadic pastoral economy of the inhabitants. Islam was introduced to Kazakhstan in the 7th to 12th centuries. Besides lamb, many other traditional foods retain symbolic value in Kazakh culture. Kazakh culture is largely influenced by the Turkic nomadic lifestyle. Kazakh culture seems also to be strongly influenced by the nomadic Scythians.
Because animal husbandry was central to the Kazakhs' traditional lifestyle, most of their nomadic practices and customs relate in some way to livestock. Traditional curses and blessings invoked disease or fecundity among animals, and good manners required that a person ask first about the health of a man's livestock when greeting him and only afterward inquire about the human aspects of his life.
The traditional Kazakh dwelling is the yurt, a tent consisting of a flexible framework of willow wood covered with varying thicknesses of felt. The open top permits smoke from the central hearth to escape; temperature and draft can be controlled by a flap that increases or decreases the size of the opening. A properly constructed yurt can be cooled in summer and warmed in winter, and it can be disassembled or set up in less than an hour. The interior of the yurt has ritual significance; the right side is generally reserved for men and the left for women. Yurts are also frequently used as a decorative motif in restaurants and other public buildings.
Economy
The economy of Kazakhstan is the largest in Central Asia in both absolute and per capita terms, but the currency saw a sharp depreciation between 2013 and 2016. It possesses oil reserves as well as minerals and metals. It also has considerable agricultural potential with its vast steppe lands accommodating both livestock and grain production. The mountains in the south are important for apples and walnuts; both species grow wild there. Kazakhstan's industrial sector rests on the extraction and processing of these natural resources.
The World Bank Vice President for Europe and Central Asia, Cyril Muller, visited Astana (now known as Nur-Sultan) in January 2017, where he praised the country's progress made during the 25-year partnership with the World Bank. Muller also talked about Kazakhstan's improved positioning in the World Bank's Doing Business Report 2017, where Kazakhstan ranked 35th out of 190 countries worldwide. After 2000, the government conducted several public sector reforms and adopted the New Public Management (NPM) approach aimed at reducing costs and increasing efficiency of public service delivery.
Kazakhstan secured 3rd position in the Central and South Asia regional ranking of the 2018 Global Innovation Index (GII) released by World Intellectual Property Organization.
Cost of Living
The cost of living in Kazakhstan varies relatively from city to city in comparison to other international expat destinations. This is demonstrated in Mercer's cost of living survey for 2019, where Almaty was ranked as 191 out of 209 cities surveyed, placing it also as one of the cheapest expat cities to live in as compared to other international destinations surveyed cities.
Food costs are generally reasonable in Kazakhstan and even the housing market is relatively cheap in Almaty as compared to other cities within the Kazakhstan.
Most Kazakhstan universities provide various levels of on-campus accommodation to international students at different costs to suit different budgets. International students can choose their accommodation when they arrive at the University. On-campus accommodation is usually the cheapest alternative.
Education System
Following independence from the Soviet Union, a major economic depression cut "public financing" for education in Kazakhstan, "which dropped from 6% of gross domestic product in 1991 to about 3% in 1994, before rising to 4% in 1999. Elementary- and secondary-school teachers remain badly underpaid; in 1993 more than 30,000 teachers (or about one-seventh of the 1990 teaching staff) left education, many of them to seek more lucrative employment.
In 1994 Kazakhstan had 8,575 elementary and secondary schools (grades one through eleven) attended by approximately 3.2 million students, and 244 specialized secondary schools with about 222,000 students. In 1992 about 51 percent of eligible children were attending some 8,500 preschools in Kazakhstan. In 1994 some 272,100 students were enrolled in the republic's sixty-one institutes of higher learning. Fifty-four percent of the students were Kazakh, and 31 percent were Russian.
Kazakhstan's 1995 constitution provides mandatory, socialized secondary school education. Citizens compete for socialized institutions of higher learning. Private education is increasing in the country, with about 5% of students enrolled in the private schools that remain largely under arbitrary state control.
In 2000, the Government of Kazakhstan joined the governments of the Kyrgyz Republic and Tajikistan, and the Aga Khan to establish the world's first internationally chartered institution of higher education, the University of Central Asia (UCA). The UCA will have three campuses of equal size and stature in each of the founding countries. The Kazakh campus is under construction in Tekeli in the Zhetysu region, 35 minutes east of the regional capital Taldykorgan, and three hours by car from Almaty. The UCA will benefit from the resources of the Aga Khan Development Network to offer an internationally recognized standard of higher education in Central Asia. Currently, the University operates a School of Professional and Continuing Education (SPCE), with a School of Undergraduate Studies and a Graduate School of Development in the process of being established.
Kazakhstan has a 99.81% literacy rate for males and 99.87% for females as of 2020.
Information Specific to International Students
The total number of foreign students in Kyrgyzstan increased steadily over recent years and reached more than 50,000 in 2019. That was roughly double as much as ten years ago.
Admission Requirements for MBBS
Students having minimum 60% marks in intermediate (FSc Pre-Medical) can apply.

The course duration of MBBS is 6 years in majority Kyrgyz universities.

Top medical Universities in Kyrgyzstan are recognized by PMDC, WHO.

Separate hostels for female.

No Entry Test.

No IELTS or TOEFL required.